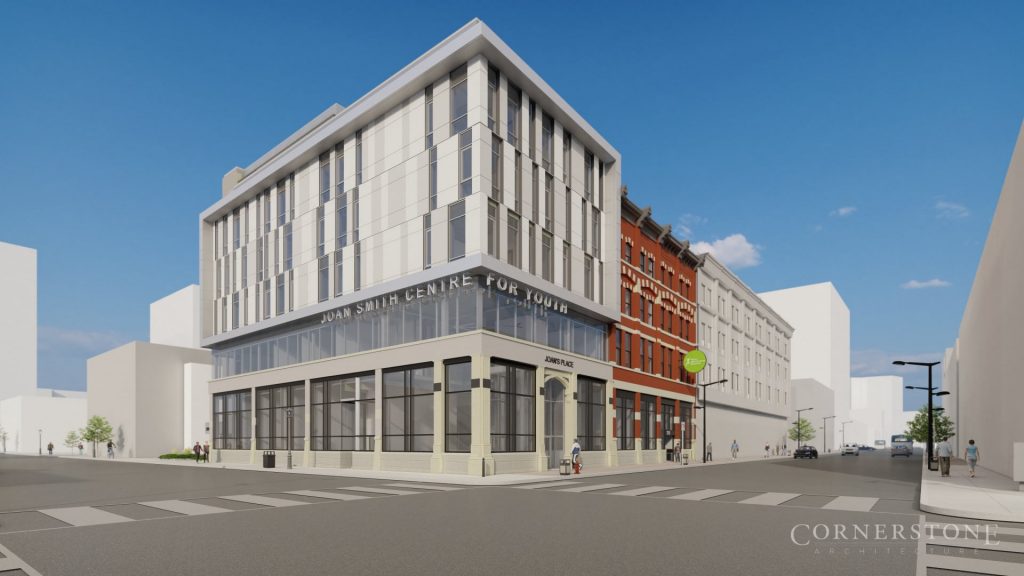 Joan's Place
Taking care of the next generation, together.
Home is a place of safety and security; a place where you can learn and grow. 
Joan's Place will be exactly that – a safe and affordable home for youth, young mothers, and mothers-to-be who are experiencing, or at risk of experiencing homelessness.
And it will be so much more. 
At Youth Opportunities Unlimited, we know it takes more than a roof or affordable rent to change a life.
That's why the vision of Joan's Place is to help young people escape homelessness and create a new cycle, for themselves and their young families. With a wraparound model of care, this new downtown hub will allow youth to be exactly that: young people — learning, gaining experience, and growing.
In addition to providing housing, Joan's Place will bring together dozens of local organizations that offer youth primary and mental health care, addiction services, education, employment, and housing supports in an innovative Youth Wellness Hub, ensuring young people can access the key services they need at the most vulnerable time of their lives, and as quickly and conveniently as possible.
By the Numbers
YOU serves 3,600 youth across London-Middlesex annually
Youth make up 26% of the homeless population in London-Middlesex
Joan's Place will be able to serve 200+ people daily in a total of 55,000 square feet, including a youth wellness hub and 39 affordable housing units 

Joan's Place will change lives, in this generation and the next because of generous donors from our community.  Will you join them?
Since 1982, YOU has helped lead youth in London and Middlesex County toward success. We believe that investing in youth and strong communities go hand in hand. We know that many youth need guidance and support to reach their true potential.
YOU began as a community-based initiative and has continually developed and strengthened community partnerships. We work with our business, community and government partners (more than 22) to maximize opportunities for youth and address their most pressing needs.
We help youth reach their potential through education, skills training, employment support and referrals they need to lead positive lives. Each year YOU serves over 3,600 youth between 16 and 30 in London and Strathroy. There is a wide range of services including health & dental care, housing, education, workshops, job search and on-the-job skills training.
Youth Wellness Hub – Housing Support Centre
26% of people experiencing homelessness in our community are youth under 25 years of age. For London, that equates to approximately 500 young adults and children. The traumas endured by young people experiencing homelessness often include many of the following: physical and psychological abuse, loss of family support, victimizations from being trafficked, coercion into sex work and criminality – – all of which leads to the loss of hope – for a better life, a warm community, a network of support. For those individuals a path to education, employment and full participation in our community starts with a safe space to help them find and maintain housing. As their trust has been violated many times, the physical space where they first come to learn about housing and support options needs to be particularly welcoming, low barriered and have multiple options for engaging youth.
Within the Joan's Place Youth Wellness Hub will be a welcome centre that includes many of those initial supports that will help young people in the journey from homelessness. This welcome/housing support centre will include:
a minimum of 2 private spaces designed to be used by youth in need of time to de-stress and gather themselves for community appointments such as with landlords, programming personnel, counsellors.
storage facilities available to unhoused youth where they can leave valuables and personal belongings while they attend to appointments.
Community meeting space where youth experiencing homelessness can meet privately with staff from varying community partners to discuss their housing needs and any related issues that will help advance them towards finding permanent housing
Funds raised from FTE would be used to build the storage facilities, furnish and outfit the private spaces and community meeting space and furnish the lobby area so that it's a welcoming and engaging space for youth experiencing homelessness. By creating these spaces as outlined, we'll be creating a strong "off-ramp" for youth currently facing homelessness and providing low barriered access for them to participate in programs and services designed to help them find housing.